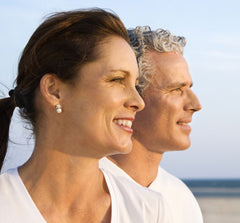 December 9 2015. The December 7, 2015 issue of the Journal of Clinical Oncology published the results of a study which found a risk of Alzheimer's disease that was significantly higher among men who were prescribed androgen deprivation therapy (ADT) for prostate cancer compared to those who did not receive ADT.
"We wanted to contribute to the discussion regarding the relative risks and benefits of ADT, and no one had yet looked at the association between ADT and Alzheimer's disease," stated lead author Kevin T. Nead, MD, MPhil, of the department of Radiation Oncology at the Perelman School of Medicine at the University of Pennsylvania, and a fellow at the Leonard Davis Institute of Health Economics.
Dr Nead and colleagues evaluated medical records from the Stanford health system and New York's Mt Sinai Hospital for 16,888 prostate cancer patients, among whom 2,397 received ADT. Men treated with ADT were matched with control patients who did not receive the therapy. It was discovered that men who received ADT were 66-88% more likely to be diagnosed with Alzheimer's disease over follow-up compared to non-treated controls. Longer ADT duration was associated with more than double the risk of Alzheimer's. Similar findings were obtained when patients from the two hospital systems were separately analyzed.
"Based on the results of our study, an increased risk of Alzheimer's disease is a potential adverse effect of ADT, but further research is needed before considering changes to clinical practice," Dr Nead noted. "It's hard to determine the precise amount of increased risk in just one study and important to note that this study does not prove causation. But considering the already-high prevalence of Alzheimer's disease in older men, any increased risk would have significant public health implications."