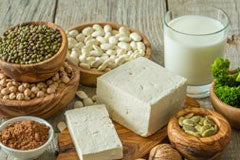 A study reported in the April 2017 issue of the Journal of Nutrition found that older men and women who had a greater intake of dairy products, which are high in calcium, had a lower risk of bone loss than those who consume less of these foods, but only if they were supplementing with vitamin D.
Shivani Sahni, PhD, and colleagues at Hebrew SeniorLife's Institute for Aging Research and Harvard Medical School in Boston evaluated data from men and women between the ages of 67 to 93 years who were in enrolled in the long-term Framingham Study. Bone mineral density was assessed between 1988 and 1989 and during follow-up from 1992 to 1993. Food frequency questionnaire responses were analyzed for the intake of dairy products that included milk, yogurt cheese and cream.
While greater intake of dairy foods was not associated with increased bone mineral density or bone mineral density changes in the entire group, when those who used vitamin D supplements were examined, greater intake of milk, fluid dairy, and milk plus yogurt and cheese were associated with higher bone mineral density of the lumbar spine. Vitamin D users who had greater milk plus yogurt and cheese intake were also better protected against trochanter (located on the upper thigh bone) mineral density loss.
"This study is significant because in addition to milk intake, it also examined the association of other dairy foods such as yogurt, cheese and cream with bone mineral density and bone loss over time," Dr Sahni stated. "Furthermore, this study clarified that the association of dairy foods with bone density is dependent on adequate vitamin D intake. However, additional studies are needed to confirm these findings using serum vitamin D concentrations."