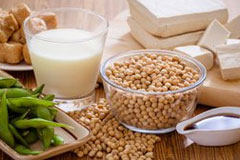 An article published in the June 1, 2017 issue of Cancer should provide reassurance to breast cancer patients who consume soy, a significant source of isoflavones.
"Isoflavones--the component of soy that has estrogen-like properties--have been shown to slow the growth of breast cancer cells in laboratory studies, and epidemiological analyses in East Asian women with breast cancer found links between higher isoflavone intake and reduced mortality; however, other research has suggested that the estrogen-like effects of isoflavones may reduce the effectiveness of hormone therapies used to treat breast cancer," explained lead researcher Fang Fang Zhang, MD, PhD. "Because of this disparity, it remains unknown whether isoflavone consumption should be encouraged or avoided for breast cancer patients."
Dr Zhang and her associates evaluated data from 6,235 women enrolled in the Breast Cancer Family Registry. Dietary questionnaire responses provided information on the prediagnosis isoflavone intake of 5,178 subjects and postdiagnosis intake of 1,664 subjects. During a median follow-up period of 9.4 years, 1,224 deaths occurred.
Among women whose daily isoflavone intake was among the top 25% of subjects, the risk of all-cause mortality over follow-up was 21% lower than those whose intake was among the lowest 25%. The reduction in mortality in association with high isoflavone intake was limited to subjects with hormone receptor negative tumors (who had a risk of dying that was half that of women whose intake was lowest) and those not treated with antiestrogen therapy.
"Based on our results, we do not see a detrimental effect of soy food intake among women who were treated with endocrine therapy," Dr Zhang noted. "For women with hormone receptor-negative breast cancer, soy food products may potentially have a protective effect. Women who did not receive endocrine therapy as a treatment for their breast cancer had a weaker, but still statistically significant, association."