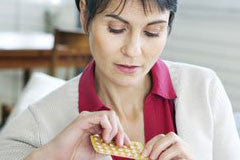 An article appearing in the December 1, 2016 issue of the Journal of Clinical Endocrinology & Metabolism reports that menopausal hormone therapy may not only improve bone mineral density but also helps maintain bone structure.
"Menopausal hormone therapy favorably affects bone mineral density (BMD)," write Georgios Papadakis, MD, and colleagues at Lausanne University Hospital in Switzerland. "Whether menopausal hormone therapy also affects bone microarchitecture, as assessed by trabecular bone score (TBS), has never been evaluated."
The current investigation included 1,279 participants in the OsteoLaus Cohort, which enrolled 1,500 Swiss women between the ages of 50 and 80 years. Twenty-two percent of the current study's participants were using hormone replacement, 30% were past users and the remainder had never used the therapy. Dual x-ray absorptiometry (DXA) scans of the lumbar spine, femoral neck and hip provided data used to determine bone mineral density and Trabecular Bone Score—an assessment of underlying bone structure that can help predict fracture risk.
Among current hormone therapy users, Trabecular Bone Scores as well as bone mineral density values were significantly higher in comparison with past users or never users. Past users had higher bone mineral density at the lumbar spine and hip and a trend toward higher TBS than those who had never used hormone therapy.  Duration of therapy was not associated with bone health.
"When used in the right context, specifically in postmenopausal women younger than 60 years old for whom the benefits outweigh risks, menopausal hormonal therapy is effective for both the prevention and treatment of osteoporosis," Dr Papadakis stated. "Women at menopause should take note of this study, because its results can help optimize the use of menopausal hormone treatment in women at risk of osteoporosis."