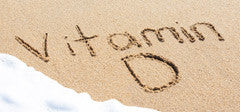 A pooled analysis published on April 6, 2016 in PLOS ONE found an association between a substantial reduction in invasive cancers and higher vitamin D levels.
Robert P. Heaney and colleagues at the University of California San Diego pooled data from the Lappe cohort, which included 1,169 women who participated in a randomized trial, and the GrassrootsHealth cohort, a prospective study cohort that included 1,135 women. Lappe cohort subjects had median 25-hydroxyvitamin D [25(OH)D] levels of 30 nanograms per milliliter (ng/mL) and those in the GrassrootsHealth cohort had a median of 48 ng/mL.
The researchers determined that a vitamin D level of 40 ng/mL or more was associated with a 67% lower risk of developing cancer over a 3.9 year median compared to levels of 20 ng/mL or less. The finding suggests that the target vitamin D level of 20 ng/mL recommended by the Institute of Medicine in 2010 may be insufficient to provide significant cancer protection.
"We have quantitated the ability of adequate amounts of vitamin D to prevent all types of invasive cancer combined, which had been terra incognita until publication of this paper," commented coauthor Cedric Garland, DrPH, who is an adjunct professor in the UC San Diego School of Medicine Department of Family Medicine and Public Health. "These findings support an inverse association between 25(OH)D and risk of cancer and highlight the importance for cancer prevention of achieving a vitamin D blood serum concentration above 20 ng/ml, the concentration recommended by the IOM for bone health."
"Primary prevention of cancer, rather than expanding early detection or improving treatment, will be essential to reversing the current upward trend of cancer incidence worldwide," the authors conclude. "This analysis suggests that improving vitamin D status is a key prevention tool."