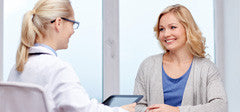 An article appearing on August 4, 2016 in the Journal of Clinical Endocrinology & Metabolism reveals a potential benefit for soy isoflavones for women with polycystic ovary syndrome (PCOS)--a disorder characterized by mildly elevated male hormones and insulin which is associated with weight gain, infertility, and a greater risk of diabetes and coronary heart disease. The condition is estimated to affect 5 to 6 million U.S. women.
In a randomized trial, 70 women aged 18 to 40 years with PCOS were assigned to consume 50 milligrams per day of a soy isoflavone supplement or a placebo for 12 weeks. Blood samples collected at the beginning and end of the study were analyzed for levels of hormones, lipids, and biomarkers of inflammation and insulin resistance.
At the end of the trial, participants who received soy isoflavones had lower insulin and markers of insulin resistance, free androgens, and serum triglycerides in comparison with those who received a placebo. They also experienced an increase in plasma glutathione and a decrease in malondialdehyde, a marker of oxidative stress.
"Our research found that women who have PCOS may benefit from incorporating soy isoflavones in their diets," remarked first author, Zatollah Asemi, PhD, of Kashan University of Medical Sciences in Iran. "In the first study to examine the connection, we found women who consumed soy isoflavones regularly saw improvement in biological markers that reflect how effectively the body utilizes insulin to process sugars and had reduced levels of harmful cholesterol."
"There is growing interest in how adding soy to the diet can help address metabolic syndrome and related health conditions," Dr Asemi added. "Our findings indicate consuming soy isoflavone regularly may help women with PCOS improve their metabolic and cardiovascular health."