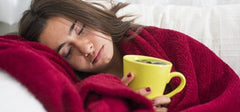 A report appearing on September 15, 2016 in the journal PLOS Pathogens describes a role for the hormone progesterone in reducing inflammation and improving lung function following infection with influenza.
"Epidemiological and experimental evidence suggest that young adult females suffer a worse outcome than males following influenza A virus infection, which in mice is associated with infection-induced suppression of reproductive hormones and excessive inflammatory immune responses in females," write Sabra L. Klein of Johns Hopkins University and colleagues. "In addition to influenza, young adult females suffer a worse outcome than males from several autoimmune diseases, including multiple sclerosis. Paradoxically, a growing body of literature reveals that exogenous treatment of females (both humans and mice) with either estrogens or progesterone limits inflammation and protects against infectious and autoimmune diseases by decreasing inflammation and promoting repair."
Using progesterone-depleted mice, Dr Klein and associates found that administration of the hormone in an amount similar to that released during the luteal phase of the cycle was associated with protection against lethal and sublethal influenza A virus infection. The animals experienced a reduction in lung inflammation, improved lung function, lung epithelial damage repair, accelerated recovery and an increase in T helper 17 immune cells. The effects observed in the study were determined to be the result of stimulation by progesterone of the production of the epidermal growth factor known as amphiregulin by respiratory epithelial cells.  While giving amphiregulin to progesterone-depleted female mice stimulated pulmonary repair and improved the influenza outcome, treating amphiregulin-deficient female mice with progesterone failed to restore protection.
"This study provides insight into a novel mechanistic role of progesterone in the lungs and illustrates that sex hormone exposure, including through the use of hormonal contraceptives, has significant health effects beyond the reproductive tract," the authors conclude.