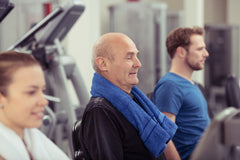 By Susan Wilson, M.D.
Forever Health Network Practitioner
In recent years, medical practitioners have found themselves talking to a lot more male patients about low testosterone, a diagnosis that is becoming increasingly common in men age 30 and older. This condition goes by many names: hypogonadism, andropause, and low T. The logical fix is testosterone replacement, but do you really need it? And, more importantly, is it safe?
There is a multitude of information and many misconceptions about testosterone replacement. Let's look at some simple facts:
According to the National Institutes of Health (NIH), an estimated 5 million men have low testosterone.
Testosterone production begins to decline as early as age 30, with most men losing 1 to 2% per year starting around age 40.1
Symptoms associated with low T include fatigue, depression, reduced cognitive clarity, moodiness, weight gain and increased belly fat, loss of muscle mass, as well as a decline in sexual performance including loss of libido and softer erections.
But some simple maneuvers can boost testosterone production:
Reducing stress levels and limiting alcohol intake may result in a rise testosterone levels and are good first steps.2,3
Taking zinc and vitamin D supplements may raise levels as well.4,5 A diet rich in healthy fats, such as olive oil, coconut oil, and avocados also can be helpful for testosterone production.6
Testosterone replacement is ideally performed in patients who have been diagnosed correctly by a health care provider with experience in the treatment of low T. It's important to note that the patient's blood count, blood chemistry, and hormone levels must be carefully monitored during treatment so testosterone doses can be adjusted accordingly. With proper supervision, testosterone replacement therapy can provide substantial benefits:
Recent scientific studies have suggested that testosterone replacement is associated with a lower risk of type 2 diabetes and improved cardiovascular health.7,8  
A U.S. Veterans Affairs database study of more than 83,000 male subjects found that men whose low testosterone was restored to normal through gels, patches or injections had a lower risk of heart attack, stroke or death from any cause, versus similar men who were not treated.9
Many of the theoretical risks associated with testosterone replacement therapy have been debunked. One of the most widely held concerns was the potential to increase prostate cancer risk, yet studies show there's no indication that testosterone therapy creates an unexpectedly high rate of prostate cancer.10
Testosterone supplementation has been used clinically to treat a variety of ailments since the 1930s.1
Interest in utilizing testosterone therapy to combat age-related physical decline in men has been evolving over the past 20-plus years and has been popularized by the launch of topical therapies marketed by Big Pharma.  
Restoring testosterone to normal levels can restore vitality and youthful sexual vigor. As more men educate themselves about the signs and symptoms of low T, as well as the benefits of treatment, the practice of testosterone replacement will continue to grow.
References:
J Clin Endocrinol Metab. 2011 Jan; 96(1): 62–65.
Neuro Endocrinol Lett. 2005 Aug;26(4):355-60.
Alcohol Clin Exp Res. 2004 May;28(5):780-5.
Biol Trace Elem Res. 2011 Dec;144(1-3):264-71.
Andrology. 2014 Sep;2(5):748-54.
J Nutr Biochem. 2013 May;24(5):887-93.
Urology. 2013 Oct;82(4):814-9.
J Sex Med. 2010 Oct;7(10):3495-503.
Eur Heart J. 2015;36:2706-2715.
Ther Adv Urol. 2015 Dec; 7(6): 378–387.