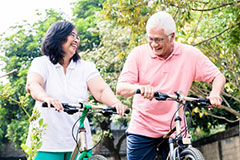 Finding himself on the wrong end of the stethoscope was Dr. Vernon Williams' wake up moment in the practice of medicine. "Back in the early 1990s, I was gaining weight, my breasts were enlarged, and I didn't have any sexual desire. I went to see a doctor and he said that I had a pituitary tumor," he explained. "They told me I'd have to take medication the rest of my life. And for the first time in my life, I was a patient. That's what started me on this road . . . I decided I needed to make a change."
Like Suzanne Somers, Dr. Williams believes that our modern environment, our diet, plus toxins and how our body responds to them are behind the current wave of health complaints experienced by so many people. "Unfortunately, in medicine, we learn how to prescribe pills for everything. We don't really treat patients' problems. Everything requires a pill, and if there's no pill for the problem, it's not a problem, according to the Medical Society," Dr. Williams observed.
Dr. Williams practices in Texas, a state that requires physicians to obtain 24 continuing medical education (CME) credits every two years; however, Dr. Williams obtains 200 to 300 CMEs in half that amount of time. "I'm always running off to a conference," he enthused. "If I'm not at a conference, I'm falling behind because there's always something new coming along."
Suzanne Somers brought up a common complaint among women: diminished sex drive. "The funny thing about men is that they're always great. There's never a problem," Dr. Williams wryly observed. 
"At one point, I used to say that we had an Age Management Clinic and we were about getting people healthy. But now I'll say we have a Sex Clinic because sick people don't want sex, but healthy people want sex."
"Does a lack of a sex drive have to be a life sentence?" Suzanne Somers asks.
Dr. Williams replied that several treatments are available for men but there are not many for women. Females often have problems with desire, arousal, orgasm, and pain. Only about 10% of women share these concerns with their physician. He estimates that 50% to 60% of women have some type of sexual dysfunction that is not being addressed by physicians.
Testosterone is the major hormone responsible for sex drive (libido) in both genders. Dr. Williams prefers injections or pellets as the route of administration for testosterone replacement as opposed to creams. Topical creams, due to the inevitable variation in the size and absorptive capability of the area upon which they are applied, do not result in the consistent daily dose provided by injections or pellets. Creams also have the disadvantage of inadvertent absorption by one's partner, children or pets, with potential unwanted effects. "Four years ago, when I used to use topical creams on women, the patients didn't really stick around," Dr. Williams observed. "Females would come and go. But once I started using pellets, things completely changed. Four years ago, 75% of my testosterone patients were male. Today, 75% of my testosterone patients are women. And that's because of pellets. And women talk and men don't. Women, when they feel good, spread the word."
A question that Suzanne Somers hears frequently is whether it's "natural" to replace hormones. According to some individuals, when we run out of hormones, we're supposed to run out. To that, Dr. Williams explained that our hormones are optimal up until about age 35. After that, Nature says that women shouldn't have any more children because of an increased risk of Down syndrome and other problems associated with diminished egg quality, and hormone levels start dropping. "If you want to stay young and attractive and vibrant and sexy, you need to optimize your estrogen and progesterone. If you're not interested in any of that stuff, by all means, don't even bother with it."
Bioidentical hormones are different from synthetic hormones because they are recognized by the body, Dr. Williams noted. "When you put synthetic hormones into your body, your body says, 'What is this? I've never seen it before. I don't know if it's good for me or bad for me. Should I attack it, should I destroy it?' Your body doesn't know. When you give bioidentical, your body thinks you made it. It thinks it's been making it all the years of your life. There's no difference."
Asked about his response to patients' concerns regarding hormone replacement therapy and the risk of cancer, Dr. Williams referred to the obvious fact that young people with high concentrations of hormones are rarely diagnosed with hormone-related malignancies, such as breast and prostate cancer. 
Dr. Williams' patients don't have a consultation with him until they've completed a 27-page history form and had an impressive array of blood tests. Only then do they sit down with the doctor for an approximately two-and-a-half-hour discussion. "To me, there's two types of doctors," he said. "There's a doctor who wants to do as little as possible for as many patients as possible or the doctor who wants to do as much as possible for as few patients as possible — and that's the one I choose to be because we see about four to five patients a day." 
"Most physicians get their education from the drug companies," Dr. Williams remarked. "The only way a physician knows about a drug is because a drug rep comes and tells them all the wonderful things about this drug. He's not getting the other side . . . Doctors only prescribe what they know. Natural stuff is not FDA approved and because of that, they don't get a drug rep coming and saying: 'Try vitamin C.'"
A statement appearing on Dr. Williams' website sums up his philosophy: "I believe you can turn back the clock. We can make you look, feel, and function like a younger you. I want to reduce your stress, eliminate your pain, and allow you to live a healthier, happier life. I want you to be like me — 29 again and again. So when you're ready to experience the younger, healthier, happier you, we will be waiting."
To learn more about Dr. Williams, visit his profile.