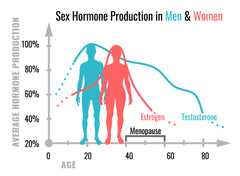 "What's a nice anesthesiologist like you doing in the whole bioidentical hormone arena?" Suzanne Somers asks Richard Gaines, MD.
Dr Gaines explained that his son, being small for his age, needed growth hormone. "What is this growth hormone stuff?" Dr Gaines wondered. He began researching growth hormone, located the American Academy of AntiAging Medicine, which was being formed during 1994-1995, and became interested in the science of antiaging medicine. He retired from anesthesia and the rest, as they say, is history."
When queried about the symphony of interplaying hormones, Dr Gaines observed that the issue is complicated. We know that as we age, we lose hormones, but what's really happening is that the organs that produce these hormones are "pooping out." From an evolutionary standpoint, humans were not designed to live much past the age of 30. "We're supposed to bring up the kids in the cave, help with the grandchildren, and in times of famine, the whole tribe goes away, and grandma and grandpa can't keep up. They die of exposure or get caught by the saber-toothed tiger. And the fossil evidence shows that grandma and grandpa were 27 to 30 years old."
After one's peak reproductive years, hormonal decline and physical degeneration expose people to greater risks. There's an increased incidence of degenerative diseases, including Alzheimer's disease, osteoporosis, diabetes, coronary artery disease, frailty, and cancer because we're living longer. Medical literature supports the replacement of hormones into a hormone-depleted body to diminish the risk of all of these diseases. "I look at it as a no-brainer," Dr Gaines commented. "We're talking about natural, bioidentical hormones here that we lose as we age. Replacing them is beneficial."
For those who aren't familiar with the term, Suzanne Somers noted that "bioidentical" refers to a hormone compound that is biologically identical to that which is produced by the body—an exact replica of what we once made or continue to make in lower amounts.
Dr Gaines began practicing bioidentical hormone replacement in men. He noted that men's hormones gradually decrease over a period of 20-30 years, but women can end up with very low hormone levels in a short period of time during menopause. Even young women can have hormone imbalances, as in the case of those who use oral contraceptives.
Residual fears from the conclusions of the Women's Health Initiative (WHI) studies that evaluated the effects of Premarin (conjugated estrogens) and Provera (progestin), have led to the avoidance of hormone replacement therapy by millions of women. However, in the WHI, women who used Premarin alone actually experienced a decreased risk of breast cancer along with other benefits. It was the addition of nonbioidentical progesterone (progestin) that was associated with a small increase in the risk of blood clots, cardiovascular disease and breast cancer. This resulted in the condemnation of all hormone replacement therapies by the media.
"There's a lot we're learning now about hormones," Dr Gaines stated. "There's published medical data showing the benefits of replacement of estrogen, progesterone and testosterone in females . . . And I wish that one day that gynecologists and endocrinologists would be on board."
"For every big movement like this to take effect it takes a couple of decades, but I've seen it in the last ten years," Suzanne Somers commented. "When I first started writing my books I could only find 30 doctors in all of the United States who are qualified in BHRT [bioidentical hormone replacement therapy]. When it reached a couple hundred thousand, I could no longer put them at the back of the book, which is why we started ForeverHealth.com, so that women and men could find doctors such as yourself who have stepped out of the "standard of care" allopathic school-trained box and learn about this new protocol.
Suzanne Somers brings up the topic of men and hormone replacement. Many men equate the use of testosterone replacement as an admission that they're not the man they used to be. But the sexual part of a man, Suzanne Somers observes, is the last thing to go when testosterone declines with aging.
"Absolutely," Dr Gaines agreed. "Testosterone has been shown to be beneficial for glucose metabolism, cholesterol metabolism, sense of wellness, energy levels."
One of the organs with the highest concentration of testosterone receptors is the brain. "It's a very important hormone for men and it's almost guaranteed it'll decrease at age 40-50 years old. That doesn't necessarily mean you need testosterone. You might need a better lifestyle or some 'stimulation therapy.' I won't get into that, but it's natural stuff that actually increases testosterone levels."
"Sexual energy is a very important facet that I look at," he continued. "I have the luxury of spending a lot of extra time with my patients now in this type of medicine and some of the top goals that they have are energy, sexual energy, mental health, body composition. Sexual energy is always in there."
Dr Gaines pointed out that even young people can lack libido, and that hormonal contraceptives that a woman may use in her teens can permanently impact desire.
"A great libido is an indicator that you are healthy," Suzanne Somers affirmed. "Hormone replacement restores you if you are taking care of your life in other arenas."
The thyroid gland and the hormones it makes are also important. "When a patient comes into your office—and I know as a doctor you've been taught to assess within the first five minutes just by talking and looking at them-- are you able to look at their face and their body and get an inkling that maybe their thyroid is either high or low?" she asked.
"If they seem lethargic, if they have slowed speech, if their hands are cold, it may mean that maybe their metabolism is a little off and thyroid function might be off," Dr Gaines replied. "There are actually facial features that can develop. You can lose the outside portion of your eyebrow. There's plenty of other signals you can get. I do back up my interview with the patient with some labs [tests] that are I think very important, and those are free T3 and TSH. Unfortunately, conventional medical doctors don't do that."
"I do like a combination of the hormones T3 and T4 because we take T4 and we convert it to T3. T3 is basically the only thyroid hormone that does anything."
"One of the things I think is so important for we laypeople," Suzanne Somers observed, "is to get as educated as we possibly can be so that when we call you we're in touch with our bodies."
"Because of you and your organization I think that people are more educated, especially women that come to me," Dr Gaines concurred. "They've all read your books. They have great questions. It makes it so much easier for me."
Beside hormones, gut health is another area that needs to be examined. Dr Gaines remarked that the science behind gut health is exploding right now. "We need to have a healthy gut because—if you really think about it—you choose material that you bring into yourself. Your bowels have to determine who is friend and who is foe. Before you absorb "friend" through a very complicated process, it takes this material, breaks it down into molecules, it goes into the blood stream, it's carried to every cell in the body, it influences the cell surface, sends signals down to the nucleus, chromosomes and genes that you've inherited from your ancestors. Let's say somebody has cardiac disease and they do the wrong thing for 30 years. You're going to express that cardiac disease gene. Alternatively, if you eat properly, you can suppress the expression of that gene and express all the others. It's a whole science I just described, called nutrigenomics."
Before concluding the interview, Dr Gaines discussed a new technology called the GainsWAVE that involves the use of very low levels of ultrasonic energy to stimulate blood flow to the penis or other areas. "There's a lot of evidence in Europe. There are 50 studies showing the benefits of using this shockwave—I call it GainsWAVE therapy—and ED (erectile dysfunction)."
"Viagra and Cialis—it's a five-billion-dollar industry," he noted. "Why isn't shockwave or GainsWAVE here? I think Big Pharma has something to do with it. This is a natural way of growing new blood vessels and decreasing the amount of calcium in those microvessels of the penis."
Suzanne Somers remarked that she's in such good health she doesn't need a single over-the-counter or pharmaceutical drug. "That's what this new way of aging and approach to life has done for me," she said. "And that is what you are offering people."
To learn more about Dr. Gaines, visit his profile.