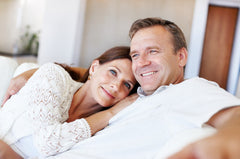 Your body is composed of a variety of different hormones, including growth and sex hormones, which carry messages between your organs and cells. Hormones are secreted by glands in the endocrine system to help the body stay balanced and function optimally. Aging is associated with a loss of sex hormones in both men and women. Replacing those lost male and female sex hormones can restore feelings of well-being, sex drive and sexual pleasure, energy levels, plus reverse muscle and bone loss along with other functions that are associated with aging. By doing this, we can age more slowly and have a better quality of life into old age.2-4
There are many methods available to restore your hormones to more youthful levels including hormone supplements, patches, pellets, and creams.
What are the main types of male and female hormones?
Estrogen
Estrogen is found in greater amounts among women. As a pro-growth hormone, its main function in the body is growth and development. This hormone stimulates fat cells to grow and is a key component in reproduction. There are three different forms of estrogen: estradiol, estrone, and estriol. Estradiol is considered the main player in physiological function. A deficiency can cause several health concerns, including decreased libido, fatigue, inflammation, hair loss, mood swings, wrinkles, brittle bones, and dry skin.5-10 Excessive amounts of estrogen can cause bloating, bleeding, breast tenderness and  mood swings.11
Progesterone
Progesterone is considered the counterpart to estrogen. It is the antagonizer to estrogen-driven growth in the lining of the uterus.12 Progesterone is essential to the premenstrual cycle. It rises during the second part of the cycle to reduce premenstrual syndrome and prepares the uterus for implantation of a fertilized egg. Additionally, progesterone is needed to support a healthy pregnancy, as low levels can result in a miscarriage.13,14 Progesterone is also neuroprotective.15 An imbalance in the ratio of estrogen to progesterone can lead to many problems with PMS symptoms like irritability, bloating, fluid retention, headaches, and fibroids.12,16,17 It works with estrogen to strengthen bones, sustain cholesterol levels, and support libido. Too much progesterone can cause fatigue, dizziness, and an increased appetite.
Testosterone
As the predominant hormone in men, testosterone helps to maintain healthy muscle mass, stamina, and strength. It also supports libido, energy, bone density, memory, and well-being.18,19 Testosterone is also necessary in proper balance for women. A deficiency of testosterone can also have negative effects on women, including low energy, decreased libido and well-being.20-22 A testosterone deficiency in men can cause fatigue, mood swings, low libido, and irritability.23-26 This hormone starts to decline in men around 35 years old, causing an imbalance between testosterone and estrogen. Too much testosterone can cause aggression, depression, impotence, and excessive libido.
Pregnenolone
Pregnenolone is produced from cholesterol and is a precursor to other steroid hormones, including progesterone, estrogen, testosterone, and DHEA. Pregnenolone levels decline with age, and a deficiency can lead to anxiety, mood imbalances, greater perceived stress, and poor cognitive function.27-30 Restoring pregnenolone levels can benefit cognitive function, mood, memory, and cardiovascular health. By converting to DHEA, too much pregnenolone may cause acne.
DHEA
As the most abundant steroid hormone in the body, DHEA is the precursor to testosterone and estrogen. It is released in the body by the adrenal glands. As we age, DHEA levels decline leading to fatigue, mood swings, and cognitive ailments. DHEA helps to stimulate protein synthesis, decrease visceral fat, support bone health, and maintain cardiovascular health.31,32 DHEA levels that are too high can cause acne, increased facial hair, skin rashes, and liver dysfunction.
References:
Rouzier N. How to achieve healthy aging. 2nd ed. Salt Lake City: Worldlink Medical Publishing; 2007.
Hortsman AM, et al. The role of androgens and estrogens on healthy aging and longevity. J Gerontol A Biol Sci Med Sci. 2012 Nov;67(11):1140-52.
Velders M, et al. How Sex Hormones Promote Skeletal Muscle Regeneration. Sports Med. 2013 Jul 26. [Epub ahead of print]
Cameron DR, Braunstein GD. Androgen replacement therapy in women. Fertil Steril. 2004; Aug;82(2):273-289.
Simon JA. Identifying and treating sexual dysfunction in postmenopausal women: the role of estrogen. J Womens Health (Larchmt). 2011 Oct;20(10):1453-65.
Calleja-Agius J, et al. Skin connective tissue and ageing. Best Pract Res Clin Obstet Gynaecol. 2013 Jul 10. pii: S1521-6934(13)00074-6.
Mirmirani P. Managing hair loss in midlife women. Maturitas. 2013 Feb;74(2):119-22.
Tiidus PM, et al. Estrogen Replacement and Skeletal Muscle: Mechanisms and Population Health. J Appl Physiol. 2013 Jul 18. [Epub ahead of print]
Graziottin A, et al. Depression and the menopause: why antidepressants are not enough? Menopause Int. 2009 Jun;15(2):76-81.
Martín-Millán M, et al. Estrogens, osteoarthritis and inflammation. Joint Bone Spine. 2013 Jul;80(4):368-73.
Bitzer J. Hormone withdrawal-associated symptoms: overlooked and under-explored. Gynecol Endocrinol. 2013 Jun;29(6):530-5.
Kim JJ, et al. Progesterone action in endometrial cancer, endometriosis, uterine fibroids, and breast cancer. Endocr Rev. 2013 Feb;34(1):130-62.
Dodd JM, et al. The role of progesterone in prevention of preterm birth. Int J Womens Health. 2010 Aug 9;1:73-84.
Spencer TE, et al. Biology of progesterone action during pregnancy recognition and maintenance of pregnancy. Front Biosci. 2002 Sep 1;7:d1879-98.
Singh M, et al. Progesterone and neuroprotection. Horm Behav. 2013 Feb;63(2):284-90.
Rosenfeld R, et al. Hormonal and volume dysregulation in women with premenstrual syndrome. Hypertension. 2008 Apr;51(4):1225-30.
Silberstein SD. Sex hormones and headache. Rev Neurol (Paris). 2000;156 Suppl 4:4S30-41.
Carruthers M. Time for international action on treating testosterone deficiency syndrome. Aging Male. 2009 Mar;12(1):21-8.
Araujo AB, et al. Prevalence of symptomatic androgen deficiency in men. J Clin Endocrinol Metab. 2007 Nov;92(11):4241-7.
Pluchino N, et al. Androgen therapy in women: for whom and when. Arch Gynecol Obstet. 2013 Aug 3. [Epub ahead of print]
Basson R. Testosterone therapy for reduced libido in women. Ther Adv Endocrinol Metab. 2010 Aug;1(4):155-64.
Glaser R, et al. Beneficial effects of testosterone therapy in women measured by the validated Menopause Rating Scale (MRS). Maturitas. 2011 Apr;68(4):355-61.
Harman SM. Testosterone in older men after the Institute of Medicine Report: where do we go from here? Climacteric. 2005 Jun;8(2):124-135.
Miner MM, et al. 12-Month observation of testosterone replacement effectiveness in a general population of men. Postgrad Med. 2013 Mar;125(2):8-18.
Lejeune H, et al. [Hypoactive sexual desire and testosterone deficiency in men]. Prog Urol. 2013 Jul;23(9):621-8.
Borst SE, et al. Testosterone replacement therapy for older men. Clin Interv Aging. 2007;2(4):561-6.
Semeniuk T, et al. Neuroactive steroid levels in patients with generalized anxiety disorder. J Neuropsychiatry Clin Neurosci. 2001;13:396-398.
Morgan CA 3rd, et al. Relationships among plasma dehydroepiandrosterone sulfate and cortisol levels, symptoms of dissociation, and objective performance in humans exposed to acute stress. Arch Gen Psychiatry. 2004 Aug;61(8):819-25.
Ritsner MS. Pregnenolone and dehydroepiandrosterone as an adjunctive treatment in schizophrenia and schizoaffective disorder: an 8-week, double-blind, randomized, controlled, 2-center, parallel-group trial. J Clin Psychiatry. 2010 Oct;71(10):1351-62.
Heydari B, et al. Low pregnenolone sulphate plasma concentrations in patients with generalized social phobia. Psychol Med. 2002 Jul;32(5):929-33.
Kroboth PD, et al. DHEA and DHEA-S: a review. J Clin Pharmacol. 1999;39(4):327–348.
von Mühlen D, et al. The Dehydroepiandrosterone And WellNess (DAWN) study: research design and methods. Contemp Clin Trials. 2007 Feb;28(2):153-68.