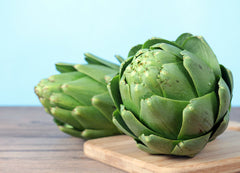 Currently, an astonishing 84,000 synthetic chemicals are manufactured or processed in the United States, with about 1,000 new ones introduced yearly.
1
Most people just assume these chemicals have undergone extensive safety testing before being released to the market. But that's incorrect. Six internationally agreed upon tests exist to screen the toxicity of high-production volume (HPV) chemicals. According to a report published in 2010 by the United States Environmental Protection Agency, only 7% of 3,000 high-production volume chemicals have undergone all six safety tests.
2
This means that most of the industrial and household chemicals that we use have never been tested for safety. Keep in mind, these chemicals will enter your body and they will likely cause problems at some point.
Supporting Your Internal "Green" Machine
Your liver is a "green" machine, with all toxins eventually coming face-to-face with the liver's arsenal of detox weapons. It's quite amazing how day-after-day the liver is able to perform its detoxification processes. But today's toxic environment is likely to leave it overwhelmed. Liver support is absolutely necessary. The goal is to strengthen and support the liver's detox pathways. B vitamins, milk thistle, and artichoke leaf extract are excellent choices. Let's take a closer look at each one.
Supporting the Liver with B Vitamins
Many B vitamins are used in the body individually or in combination with enzymes to help release energy from carbohydrates, fat, and protein. Vitamin B coenzymes are crucial to the metabolic pathways that generate the energy needed by every cell in the body. Because B vitamins are codependent in their metabolic activities, a deficiency of one B vitamin can affect optimal functioning of organ systems throughout the body — especially in the liver.
3
This is because B vitamins support many of the chemical reactions occurring in the liver, especially detoxification pathways. So supplementing your diet with B vitamins can help support liver function, including all phases of detoxification.
Milk Thistle Improves Antioxidant Defenses
The liver-protective effects of milk thistle come from its antioxidant activity. It inhibits the free radicals that are produced from the metabolism of toxic substances such as ethanol, acetaminophen, and industrial toxins. The proliferation of free radicals is known to damage the membranes of liver cells — leaving the cells nonfunctional. Milk thistle functions by increasing the liver cells' production of glutathione, one of the most powerful human antioxidants.
4
Milk thistle has also been shown to cause a slight increase in the survival of patients with cirrhosis of the liver from alcohol when compared to untreated cirrhosis patients.
4
Artichoke Prevents Damage from Liver Toxins
Now think about this — all toxins eventually come in contact with the liver. This means that the liver needs to be protected and artichoke is a perfect choice. In an animal study, researchers wanted to test the protective effects of artichoke leaf extract against toxin-induced liver damage. All the rats in the study were exposed to the liver toxin; however, some were pre-treated with artichoke leaf extract. When exposed to the toxin, rats that were not pre-treated with the artichoke leaf extract suffered marked liver damage as noted by significant increases in liver enzymes and areas of necrosis (cell death). Liver cell antioxidant levels also dropped as well. However, rats pre-treated with artichoke leaf extract were protected from the toxin and maintained normal liver enzymes and antioxidant levels. The results suggest that artichoke leaf extract may protect liver cells during detox processes, allowing the liver to function optimally.
5
Go Green by Supporting Your Liver!
The liver is your best defense against all of the toxins in our environment. Supporting its detox pathways with B vitamins, milk thistle, and artichoke leaf extract is a smart move and a big step in the "green" direction.
References:
U.S. Environmental Protection Agency. TSCA at Twenty. Chemicals in the Environment. Fall 1996.
HPV Chemical Hazard Data Availability Study. U.S. Environmental Protection Agency. August 2, 2010.
Ann N Y Acad Sci. 1980;355:80-97.
World J Hepatol. 2014 Mar 27;6(3):144-9.
Pharm Biol. 2014 Sep 22:1-7.