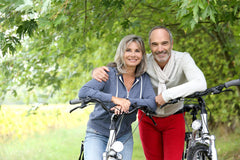 Not in the mood? Many women going through menopause can relate. The same hormonal changes that cause menopause may contribute to a low libido. While there is no "blue pill" for women just yet, lifestyle changes and even specific nutrients can make a world of difference. Below, we go over a few suggestions worth considering.
What Causes a Low Libido?
Besides hormonal changes, the use of certain medications including birth control pills, beta-blockers, and selective serotonin reuptake inhibitors (SSRIs), which are used to treat depression, can reduce a woman's sex drive. Even without SSRI treatment, depression itself can reduce or eliminate desire, and treatment with other types of antidepressants can
sometimes
help.
Testosterone May Help Enhance Female Sex Drive
A recent study revealed a benefit for testosterone-use in women undergoing treatment with SSRIs or SNRIs (serotonin norepinephrine reuptake inhibitors).
1
Although sexual self-rating scale scores were no different at the end of the study between the placebo group and women taking testosterone, more sexual satisfaction was reported in the latter.
1
Estradiol is Necessary for a Healthy Sex Drive
While testosterone has long been associated with sexual interest, a recent study emphasized the importance of estradiol, a form of estrogen.
2
It linked the peak of estradiol levels that occurs at the middle of a woman's menstrual cycle with the highest level of sexual desire. The authors of the study did not find significant effects for testosterone.
Cordyceps and Maca Support Sexual Health
Cordyceps is a mushroom extract that supports sex hormone levels and promotes their downstream flow. The herb maca enhances libido and sexual pleasure. These herbs have been traditionally used to support a healthy libido and research confirms their benefits. In a crossover study of postmenopausal women, 3.5 grams of maca taken daily for 6 weeks reduced sexual dysfunction, independent of any of its hormone-like actions.
3
BHRT Can Reawaken Sexual Interest
The initiation of bioidentical hormone replacement therapy (BHRT) during menopause can help reawaken desire. Evaluation by a specialist in hormone therapy, including blood testing for hormone levels, is essential to receive the right hormones at the right dose. Looking for a doctor? Consider our Forever Health Physician Network. We have a team of health practitioners that can help restore your hormones.
References:
J Sex Med. 2014 Mar;11(3):831-9.
Horm Behav. 2013 Apr;63(4):636-45.
Menopause. 2008 Nov-Dec;15(6):1157-62.