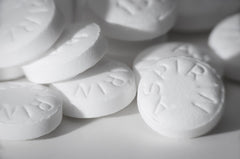 Since 1999, the CDC (Centers for Disease Control and Prevention) has consistently projected a total of 1.6 million new cancer cases and more than 500,000 cancer deaths each year.1,2 Such startling numbers are exactly why cancer brings to mind fear and pain like no other disease. However, there's good news: Daily aspirin can decrease long-term risk, prevent the spread, and even treat many cancers — all for about 10 cents per day.
Aspirin Reduces Long-term Risk
For decades, aspirin has been prescribed for the prevention of cardiovascular disease. Interestingly, doctors have also noted that their patients taking a daily aspirin have less cancer. To rule out a simple coincidence, researchers from the University of Oxford gathered together several observational studies to analyze if aspirin can really reduce cancer risk. Their research was published in The Lancet Oncology in 2012. They reviewed studies from 1950 to 2011 that reported associations between aspirin use and risk or outcomes of cancer. They found that regular use of aspirin was associated with reduced risk of colorectal, esophageal, gastric, biliary, and breast cancers. However, the greatest decrease in risk was seen in gastrointestinal cancers.3 But the good news didn't stop there … they also found that regular use of aspirin was associated with a reduced proportion of cancers with distant metastasis, the spread from the original cancer site to distant organs. Metastatic spread often is the process that causes death.3 The review's conclusions: "Observational studies show that regular use of aspirin reduces the long-term risk of several cancers and the risk of distant metastasis."3
Aspirin Stops Cancer from Spreading
A second group of researchers from the University of Oxford investigated how often cancer spreads to distant organs — metastasis — in patients taking a daily aspirin. They studied five large randomized clinical trials that were initially set up to study aspirin's effects on cardiovascular disease.4 The researchers first identified patients who developed cancer while taking aspirin and then assessed how many went on to develop metastatic disease. They found that aspirin was indeed associated with a reduction in metastasis and that a daily aspirin might help in the treatment of some cancers.4
Is Daily Aspirin Right for You?
Maybe. If you have cancer or if you have first-degree relatives with gastrointestinal, prostate, and breast cancer, a daily aspirin might be indicated. We suggest speaking with your doctor about it. Please keep in mind that aspirin is not for everyone. People who suffer from gastric and peptic ulcers need to be careful, and people who have bleeding disorders and kidney problems definitely need to speak with their doctors before beginning a regimen. Here's a quick list of the contraindications of aspirin use:5
Are allergic to aspirin
Are pregnant or trying to become pregnant
Are breast-feeding
Have nasal polyps
Have a blood-clotting disorder
Have peptic ulcer disease
Have a history of gastrointestinal bleeding
Have a hangover
Taking blood thinners (anticoagulants)
Taking oral diabetes medicines
Because several cancer studies have been pooled together, coming up with an appropriate dose of aspirin in relation to cancer is next to impossible. However, if you do take aspirin, be sure to follow the dosing suggestions listed on the label.
References:
CA: A Cancer Journal for Clinicians - Cancer statistics. 7 JAN 2014 DOI: 10.3322/caac.21208
http://198.246.124.29/cancer/npcr/pdf/USCS_FactSheet.pdf
Lancet Oncol. 2012 May;13(5):518-27.
Lancet. 2012 Apr 28;379(9826):1591-601.
http://www.webmd.com/a-to-z-guides/aspirin-topic-overview