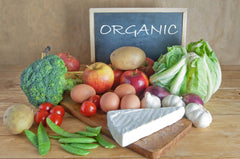 By Frank O. McGehee, Jr., M.D., C.C.N.
Forever Health Network Practitioner The reason most food purchased at the grocery store is no longer healthy to eat is the pursuit of profit by the farmers, food companies, grocery stores, popular chain and other eateries, and the inability of most of America to pay for or understand the need for "clean" food. Commercials on television also add to the problem by advertising delicious-looking fast food at a low price. The reality is that the food is laden with preservatives, nitrites, food coloring, flavor enhancers, growth hormone, antibiotics, and excess sodium and fat. In addition, minerals and vitamins usually found in fresh vegetables are diminished by the addition of pesticides. The body is so busy trying to store and dispose of pesticides that few minerals are available to nourish the body. Unfortunately, food scientists didn't stop with fruits and vegetables; they have also poisoned chicken, pork, hamburger, and all other red meats. The addition of growth hormone in all dairy products has shortened the time needed to raise an animal and get it to market. Costs on meat injected with growth hormone are much less than organic or grass-fed beef. Years after the addition of growth hormone in meats, eggs, milk, and all non-organic dairy, we routinely see young girls at 10 years old or younger starting their menses. The age for this event used to be 13 or 14. So given the reality of our current agriculture and farming practices, what can you do to protect your family?
Begin with Organic Products
All products consumed in the home should be organic. A list of foods to always buy organic includes butter, half and half, eggs, ice cream, frozen treats, sour cream, jams, jellies, pancake mix and syrup, tomato sauce, bread, bacon without nitrites, peanuts, chips, cereal, fruit drinks, coffee, sugar, flour, dry spices, cake mix, deli meat, chicken and beef broth, and salt and pepper. In other words, everything one eats should be organic. Luckily, organic fruits and vegetables are readily available. We cringe when we see advertisements for vegetables that "cook in their own bag in the microwave." Do we really want plastic residues in our favorite dinner? By the way, plastic residues are known as xenoestrogens. These estrogen-mimicking compounds can bind to estrogen receptors and cause symptoms of estrogen dominance, like endometriosis, uterine fibroids, and ovarian and breast cysts.
Fish and Meat Should Be Organic and Lean
If families wish to "eat clean," all meat, chicken, and pork should be organic. In the case of red meat, it should also be grass-fed. Cows fed grains produce meat that is high in omega-6 and low in omega-3 fats. The high 6-to-3 ratio can result in high levels of inflammation. Additionally, the only fish that should be consumed is Pacific-caught. Atlantic fish has been corrupted by extensive dumping of waste in the waters.
Bread is Not the Staple it Used to Be
Most bread should be avoided. Yes, even multigrain wheat bread. When bread is consumed, it turns immediately to sugar and feeds fungal overgrowth. Food scientists have introduced pesticide in the wheat seed, to protect the wheat against disease. So if you are eating store-bought wheat bread, you are getting a dose of pesticide with each bite. The best choice for bread is spelt from a bakery that uses organic spelt. Spelt is also low on the glycemic index, as well as low in yeast. Another good choice is flatbread since there is no yeast. Flat bread sandwiches from Subway can be eaten on occasion, but their meats contain nitrites which are detrimental to health. Sometimes, though, there is not much choice if you are on the road.
Avoid Carbonated Drinks
Have you ever noticed the obese women in the grocery store with suitcases full of diet drinks? Carbonated drinks of almost any kind should be looked upon as poison. The reason is the phosphate or "fizz" actually dehydrates the body. The aspartame then works its wicked ways and causes gene mutations as it permanently deposits itself in the cells. One little-known fact is that aspartame is one molecule away from formaldehyde. And, when ingested, the aspartame becomes formaldehyde.
Say No to Processed, Nitrite-laden Foods
Earlier, we touched on sodium nitrite, which is a preservative for deli meats, beef jerky, bacon, sausage, hot dogs, frozen pizza with meats, canned soups with meat, frozen meals with meat, kids' meals containing meat, sandwich meat served at public schools, hospitals, hotels, theme parks, and most popular eating establishments. In 2013, a large population-based study conducted in San Francisco, California, reported that processed foods could increase the risk of pancreatic cancer.
1
Another study revealed that for every 50 grams of processed meat consumed daily, the rate of colon cancer increased by 21%.
2
What You Need to Know
The United States food chain is sick. Very sick. And if we continue to eat sick food, we'll become sick as well. But don't fret. Following a few of the steps outlined here will help to clean up our food and improve our health.
References
Nutr Cancer. 2013;65(1):157-64.
Meat Sci. 2014 Oct;98(2):115.