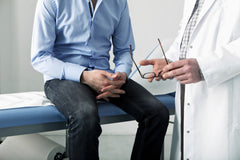 For decades, conventional doctors have told their male patients to avoid testosterone replacement therapy unless it was absolutely necessary. And when is it really necessary? When a man is diagnosed with hypogonadism, or low testosterone, then testosterone therapy can be initiated.
Unfortunately, this line of reasoning has left many aging men with sub-optimal testosterone levels, leaving them at risk for chronic diseases. But research from Harvard University should finally put this practice of reserving testosterone therapy only for hypogonadism to rest.
Testosterone and the Prostate Gland
The prostate gland can only receive a limited amount of testosterone before becoming saturated with it. Once the prostate reaches saturation, no more testosterone can enter, regardless of the amount a man is taking.
In a study conducted by Dr. Leonard Marks,1 men with low testosterone received injections of testosterone or a placebo every two weeks for a total of six months. At the beginning and end of the study, measurements of testosterone and DHT (the more active form of testosterone within prostate tissue) were obtained from the blood and also from the prostate itself.
The results showed that although blood concentrations of testosterone and DHT rose substantially in the testosterone-injected group, as expected, the concentration of testosterone and DHT within the prostate itself did not change at all and was similar to the group that received placebo injections. In addition, biochemical markers of prostate cell growth also did not change with the injections.
In essence this study demonstrated that raising testosterone levels in the blood did not raise testosterone levels within the prostate. It seems once the prostate has been exposed to enough testosterone, any additional testosterone is treated as excess and does not accumulate in the prostate. In technical terms, the prostate has been saturated with testosterone.
What does this mean clinically? Well, in terms of abnormal prostate cell growth, conventional doctors should not be afraid to optimize testosterone levels in aging men. The saturation effect seems to protect the prostate from over-stimulation by testosterone.
In Fact, Low Testosterone Increases Prostate Cancer Risk
The real concern now is that men with low testosterone are at an increased risk of prostate cancer. A Harvard study of 345 men found that the degree of testosterone deficiency correlated with the degree of cancer risk.2-4 Men whose testosterone levels were in the bottom third of the group were twice as likely to have cancer diagnosed on biopsy as men in the upper third.
There is now additional data from around the world associating low testosterone and worrisome features of prostate cancer. For example, low testosterone is associated with more aggressive tumors. In addition, men with low testosterone appear to have a more advanced stage of disease at the time of surgical treatment.
How would low testosterone contribute to prostate disease? Well, as men age, testosterone levels decrease because of three mechanisms:
The testes produce less
More testosterone converts into estrogen
More testosterone converts into DHT (dihydrotestosterone)
Research today seems to point to increases in estrogen and DHT as the culprit behind prostate disease, including prostate cancer.
The Evidence Today
For more than 65 years, there has been a fear that testosterone therapy will cause new prostate cancers to arise or hidden ones to grow. Although no large-scale studies have been performed yet to provide a definitive verdict on the safety of testosterone therapy, it is quite remarkable to discover that the longstanding fear about testosterone and prostate cancer has little scientific support.
The old concepts, taken as gospel, do not hold up to critical examination. The best summary about the risk of prostate cancer from testosterone therapy seems to be as follows:
High blood levels of testosterone do not increase the risk of prostate cancer.
Treatment with testosterone does not increase the risk of prostate cancer.
Low blood levels of testosterone do not protect against prostate cancer and, indeed, may increase the risk.
In men who do have metastatic prostate cancer and who have been given treatment that drops their blood levels of testosterone to near zero, starting treatment with testosterone (or stopping treatment that has lowered their testosterone to near zero) might increase the risk that residual cancer will again begin to grow.
But beyond those specific cases, men and their doctors should not be afraid to optimize testosterone levels — the benefits will last a long lifetime.
References
JAMA. 2006;296:2351-61.
JAMA. 1996;276:1904-6.
Urology. 2006;68:1263-7.
Curr Treatment Options Oncol. 2006;7:363-9.