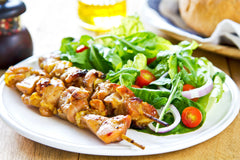 For most people, the term "diet" refers only to a weight-loss program, which frequently requires omitting a major energy source such as carbohydrates, protein or fat. However, "diet" also pertains to what we eat on a daily basis, our way of life. Although some fad diets can result in rapid, dramatic weight loss, they are hardly meant to be sustained for the long term. Sticking to a sensible eating plan is essential to being satiated and maintaining a stable weight.
Dietary choices can be especially confusing these days due to the overwhelming amount of nutritional information available. Below, you will find a general overview of nutrition and guidelines on how to create your own "diet" tailored to your body's nutritional needs. The process may be time-consuming at first, but once you understand just what your body requires, adhering to a proper diet will become second nature.
The Basics of Nutrition
The science of nutrition pertains to substances from food, including nutrients, interacting with the body and affecting health and disease. These interactions may be influenced by processes such as ingestion, digestion, absorption, transportation, utilization, and excretion.1
In order to perform physiological functions, your body requires energy from nutrients in food. These nutrients may be classified as macro or micro. Fats, proteins, and carbohydrates (or "sugars") are macronutrients. They are a major fuel source measured in calories or Kcal. Vitamins and minerals are micronutrients. These compounds are essential cofactors used to release energy from the macronutrients.
Every task your body executes requires energy or calories. Just breathing and digesting food burns calories. However, consuming excessive amounts of calories to compensate isn't necessary or advisable. Unused excess calories from foods cause the macronutrients to get stored for later use, thus leading to weight gain.
The delicate balance of energy input vs. energy output must be maintained continuously. Weight gain or loss does not occur on a daily basis but rather over a period of time. When embarking on a weight-loss regimen, many fail to realize that an overall deficit in caloric balance needs to be maintained to achieve results. Essentially, burning more calories than you consume is what produces weight loss. This can be achieved by exercising to increase your daily caloric requirement or by consuming fewer calories than are needed by your body to perform normal processes.
A healthy diet should encompass adequate amounts of calories, macro and micronutrients. Understanding how to choose foods is vital to any diet and involves carefully reading food labels and controlling portions. Too much or too little food has adverse health effects. Certain pre-existing health conditions may require an individual to consume specific quantities of a given nutrient. Many Americans consume calories that don't meet their daily requirements for nutrients. This may lead to excess weight gain and chronic disease development.
People need to consume just the right number of calories to fuel their metabolism and cellular functions. For the average person, nutrient and calorie consumption should be based on age, height, weight, gender, and physical activity level. Each person's requirement varies greatly, depending on factors like physical activity and chronic disease, and can range anywhere from 1,600 to 2,400 calories per day. Guidelines established by the United States Department of Agriculture for nutrient intake are based on a 2,000-calorie-per-day diet.
Where to Begin?
First, determine your daily calorie and nutrient needs. Then, identify your health goals and how your diet can accommodate them. To help choose foods that fulfill your requirements, use resources like www.choosemyplate.gov/ or www.nutrition.gov/shopping-cooking-meal-planning. When you prepare meals, utilize measuring cups and spoons and a kitchen scale to control serving sizes. Keep track of all the food you consume each day in a food diary/journal or via an app on your mobile device.
Determining Your Needs
Many online resources can assist in calculating your daily requirements. An ideal calculator (found on http://nutritiondata.self.com/ or https://www.bcm.edu/cnrc-apps/caloriesneed.cfm) should include the following parameters: gender, height, weight, age, and physical activity level. The tool will compute your daily intake of calories and will show what percentage should come from proteins, carbohydrates, and fats. Most healthy diets should be composed of roughly 45–65% carbohydrates, 20–35% fats, and 10–35% protein. The resulting data you are left with is the total number of calories needed for each macronutrient. Finally, all you have to do is, convert your calories to grams — macronutrients are measured by weight on food labels. Carbohydrates carry 4 calories per gram; protein carries 4 calories per gram; and fats carry 9 calories per gram.
For example: A 2,000 calorie diet, at 60% carbohydrates, 25% fats, and 15% proteins yields 1,200 calories from carbohydrates, 500 calories from fats, and 300 calories from proteins. Converting to grams: carbohydrates — 1,200 kcal/4 = 300g per day; fats — 500kcal\9 = 56g per day; protein — 300 kcal/4 = 75g per day.
Identify Your Goals
Are you revamping your diet to lose weight, control blood sugar or improve overall health? Use one or all of those goals to guide your food choices and stay motivated. Changing your diet can be a struggle initially, but keep in mind that this is a new way of life; getting into a natural rhythm can take time.
Diet Modification & Resources
You are free to make your own food choices. A "healthy" diet is not achieved through starvation or by elimination of entire food groups. Do not restrict yourself as "fad diets" instruct. Rather, discipline yourself to be consistent, keep track of your daily requirements, and prepare your own meals. For specific concerns outside of general health, seek the assistance of a qualified nutritional health professional, such as the practitioners listed on ForeverHealth.com. These knowledgeable providers can offer guidance on meal planning and preparation, caloric restriction, cardiovascular/diabetic diets, food lists, and much more. In addition to being a reliable resource, your practitioner should also be your confidante — this process is not easy. Let them encourage and praise you as you make this exciting lifestyle change. 
References
Joint Collection Development Policy: Human Nutrition and Food. Nation Library of Medicine. http://www.nlm.nih.gov/pubs/cd_hum.nut.html#2. Published on February 27, 1998. Accessed on May 19, 2015.