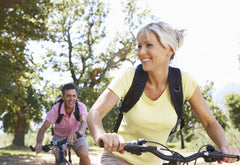 By Eva Coleman, M.D.
Forever Health Network Practitioner
Begin managing your aging process now by combining fitness, nutrition, and bioidentical hormone replacement therapy (BHRT) with other preventive treatments that meet your needs.
Millions of women and men in the United States currently suffer from age-related hormonal imbalances referred to as menopause, perimenopause, PMS, andropause, thyroid problems, and adrenal fatigue.
Hormonal decline, eventually leading to menopause, can begin several years prior to the complete ceasing of menses. The hormonal decline over several years is called perimenopause, during which symptoms can become and remain problematic. Women often suffer from unpleasant symptoms long before they enter what is officially defined as menopause (12 consecutive months without a period).    
Although menopause is a natural process and every woman will go through it, perimenopausal and menopausal symptoms caused by hormonal imbalances are not necessarily "normal" and can be managed.
Today, hormonal imbalance-related suffering is worse than ever for women and men due to environmental toxicities, poor nutrition, and stressful demands placed on our bodies. These negative factors can also trigger thyroid and adrenal hormone imbalances, causing functional impairments that compound female and male suffering. 
But it's your body, your life, and you can take charge of reversing hormonal imbalances with bioidentical hormone replacement therapy and lifestyle changes!
Why BHRT? Because customized therapy combining BHRT with nutrition, physical fitness, and other preventive and anti-aging therapies helps maintain youthful levels of vital hormones that promote health and longevity.
Slowing down the aging process with personalized and medically supervised care can play a crucial role in helping reduce the risk of cancer, heart disease, and chronic systemic disorders including diabetes and hypertension.
So why wait when you can have more energy, greater zest for life, weight control, muscle mass and tone maintenance, youthful brain and sexual function?