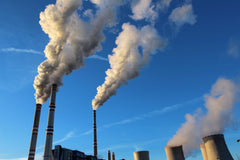 The amount of industrial waste produced by the United States is astounding. Tons and tons of toxic chemicals are seeping into everything — our water, our soil, and our food. We know it's a serious health threat, but how much of this toxic deluge is actually affecting you?
On a good note, your body has an incredible, built-in detox system. It's the liver. Your liver is tasked with detoxifying chemicals that enter your circulatory system.
However, it was never meant to deal with over 80,000 potential toxins, of which thousands could be coursing through your body as you read this. The liver's detox process is simply overwhelmed.
So how much of this toxic deluge is actually affecting you? Probably a lot of it. Whether or not you choose to measure your toxic burden, you probably should support your liver with a few choice foods and supplements:
Leafy greens and dark colored fruits and vegetables are high in B vitamins and magnesium, both are important for the liver.
Artichoke and melons contain enzymes for detoxification and decongesting the liver's excess fluid build-up.
Supplements like milk thistle, SAMe, and a B-complex can further enhance the liver's daily detox efforts.
But what is your actual level of toxic burden? Unfortunately, there's no direct way to measure it, besides testing for individual chemicals, which has no validated standard and is way too costly and troublesome for most people.
But there are available tests that indirectly measure your total toxic burden, and they won't necessarily break the bank. Let's take a look at three of them.
Oxidative Stress Correlates to Toxic Burden
We all know that poor lifestyle choices, chronic stress, and environmental toxins contribute to how we feel mentally, as well as how we function physically. But how often do we link these with oxidative stress?
And why is oxidative stress so important?  Because the process that causes an apple to turn brown or iron to rust is the same process that contributes to most chronic degenerative diseases such as atherosclerosis, diabetes, Alzheimer's and cancer.
It's also the cause of wrinkles, sagging skin and age spots and serves as an index of accelerated aging. Oxidative stress is the end result of daily exposure to oxygen — oxygen in the air we breathe and oxygen in the toxins we live with.
What makes oxygen so damaging? It forms free radicals, chemical compounds with an extra electron (technically, it's an unpaired electron). And that extra, unpaired electron doesn't just sit there, all cute and quiet. It's highly reactive, forming chemical bonds with important body compounds, rendering them useless. Oxidative stress is the build-up of free radicals over time. And the more of them you have, the more damage occurs.
Environmental toxins produce free radicals and create high levels of oxidative stress. We can indirectly estimate your level of toxic burden by utilizing tests that measure oxidative stress. A reliable test is F2-Isoprostanes.
F2-Isoprostanes Oxidative Urine Profile
Free radicals are so reactive and short-lived that direct measurement is usually not possible. That's why F2-Isoprostanes are substituted as an excellent molecular biomarker. 
F2-Isoprostanes are produced by the reaction of free radicals with arachidonic acid and measuring them in the urine. It's widely recognized as the "gold standard" for oxidative stress.1-4
It involves a simple urine sample that is tested for levels of F2-Isoprostanes. The higher the amount in your urine, the greater the oxidative stress you experience.
The F2-Isoprostanes test doesn't tell you why you have a high level of oxidation. It's not designed to do that. A high F2-Isoprostanes result is probably due to the aging process, stress, normal metabolism and toxins.
Urine Heavy Metal Challenge Test
Heavy metals, although often naturally occurring, can raise your toxic burden. A healthy, normal-functioning body is able to rid itself of very small amounts of heavy metals.
However, impairments to our detoxification system as well as exposure to moderate and large quantities of heavy metals can lead to an accumulation in the kidneys, liver, bones, brain, and other systems in the body.
Heavy metals toxicity caused by increasing levels of pollution and use of chemicals in industry is a growing threat to our health and development of our children. High levels of toxic metals deposited in body tissues and subsequently in the brain, may cause significant developmental and neurological damage.
Testing the urine is an invaluable tool for the assessment of heavy metal toxic burden. Now, keep in mind that acute metal poisoning is rare and heavy metals, such as lead and mercury, are ubiquitous in the environment.
Exposure is constantly occurring, and detectable levels of lead and mercury are commonly found in blood and urine of individuals who have no clinical signs or symptoms of toxicity and may be considered "normal," or background, or reference values.5-9
The urine heavy metal challenge test is not measuring acute poisoning, but chronic heavy metal exposure and retention. Here's how it works:
Obtain a baseline urine sample (at some labs this is not performed).
Administer a chelating agent. This is a compound that will pull or chelate out of your body heavy metals.
Obtain a second urine sample, measuring the amount of heavy metals pulled from your body.
Compare the level of heavy metals to standard reference values. Heavy metal levels that are higher than the reference value, may indicate chronic exposure and retention of heavy metals, and thus a higher toxic burden.
If necessary, administer the chelating agent as a treatment for high levels of heavy metals.
Urine heavy metal challenge tests are a popular way to determine overall toxic burden. But they're not perfect tests.
Basically, medical professionals have not established a validated standard for using such a test. The chelating agents used and their doses are variable and standard reference values are not available.10
However, given the limitations and if we don't over interpret, they can be helpful tests for people wanting to know their overall heavy metal toxic burden.
What about Biotoxins?
Supporting your liver and limiting the use of industrial chemicals doesn't always help. Some people continue to feel fatigued and continue to score high on tests for oxidative stress and heavy metals profiles.
Well, in these cases, we need to discuss biotoxins. In particular, we're talking about mold. Mold is a key element of indoor air contamination that few people understand.
What many people don't realize is that mold can make you extremely sick. According to the Environmental Protection Agency (EPA), all molds have the potential to cause ill health.11
Comprehensive Biotoxic Mold Illness Panel 
The test is designed to look at the chronic inflammatory response set in motion when a person is exposed to toxic mold.
Biotoxic illness refers to the cause of a person's illness. All biotoxic illnesses have one common denominator…toxins produced by living things. 
The tests contained in the panel look at the complex cascade of events throughout multiple inflammatory pathways produced by biotoxic mold exposure.12
What You Need to Know
Industrial toxins are here to stay. Protecting yourself from the toxic deluge is not an option any longer. Support your internal detox system and test your total toxic burden; knowing this puts you in a great place to prevent and counteract any oxidative damage.
References
Free Radic Biol Med 2000;28:505–513.
J Biol Chem 1999;274:24441–24444. [PubMed: 10455102]
Morrow, J. D., Awad, J. A., Boss, H. J., Blair, I. A., and Roberts, L. J., II Proc Natl Acad Sci USA. 89, 10721–10725 (1992). [PubMed: 1438268]
The Isoprostanes: Unique Bioactive Products of Lipid Peroxidation. By L. Jackson Roberts, II, MD and Jason D. Morrow, MD.
Third National Report on Human Exposure to Environmental Chemicals. U.S. Department of Health and Human Services. Center for Disease Control and Prevention. Atlanta, GA, 2005.
Toxicological Profile for Lead. U.S. Department of Health and Human Services - Agency for Toxic Substances and Disease Registry: Atlanta, GA, 2007.
Anonymous. Toxicological Profile for Mercury. U.S. Department of Health and Human Services - Agency for Toxic Substances and Disease Registry: Atlanta, Georgia, 1999.
CMAJ 2007;176(1):59-63.
J Occup Environ Med 2002;44(2):143-54.
J Med Toxicol. 2013 Dec;9(4):318-25.
http://www.epa.gov/mold/moldguide.html Accessed March 2015
http://www.survivingmold.com/diagnosis/lab-tests Accessed March 2015