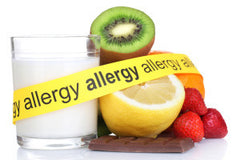 Diane is busy. She's a full time mom, raising three kids, and works part time as a bank teller. Diane eats mostly pre-packaged and canned foods, but she occasionally eats fresh fruits and vegetables.
She has no time for exercise. Honestly, she's stressed — and we don't blame her for that! Lately, however, she's been complaining of muscle aches and headaches. She doesn't have a fever or any other signs of infection.
Prior to the onset of symptoms, Diane felt fine. A recent doctor's visit resulted in a prescription for depression, despite her objection and assurance to her doctor that she doesn't feel depressed — just a little stressed. Does this sound familiar?
Well, it's becoming a common scenario. More and more people are reporting vague symptoms that continue to go undiagnosed. Most of them are written off as depression.
But are we missing something? Could these vague, mysterious symptoms be caused by the food we're eating?
The Rise of Food Sensitivities
Researchers estimate that up to 15 million Americans have food allergies or sensitivities. These potentially deadly food allergies affect 1 in every 13 children in the U.S. — roughly two in every classroom.1
The findings from a 2009 to 2010 study of 38,480 children indicated:2
10% have a food allergy or sensitivity
Of these kids, 39% had a history of a severe reaction and 30% had multiple food allergies or sensitivities
The number of kids with food allergies increased 18% from 1997 to 2007
Additional studies published in the Journal of Allergy and Clinical Immunology found that visits to the emergency room at Boston Children's Hospital for allergic reactions more than doubled from 2001 to 2006.3
The increase in food allergies and sensitivities was initially seen in the UK, Europe, and USA, but it can now be found in all countries undergoing industrial development.
The research is less reliable for adults; however, most doctors believe that the same holds true — food allergies and sensitivities are on the rise.
Is the Western Diet to Blame?
The first theory explains that the rise in food sensitivities is due to the standard western diet. Too much salt, too many preservatives, unhealthy fats, and excess sugar have a negative influence on the gut microbiome — colonies of healthy bacteria and yeast species.
One study compared the gut bacteria from 15 children in Florence, Italy, with the gut bacteria in 14 children in a rural African village. They found that the variety of flora in these two groups was substantially different.
The children in the African village live in a community that produces its own food and are mostly vegetarians. The study authors say this is closer to how humans ate 10,000 years ago.
By contrast, the local diet of European children contains more sugar, animal fat and calorie-dense foods. The study authors theorize that these factors result in "less biodiversity in the organisms found inside the gut of European children."4
The theory then goes like this: Less microbiome diversity hypersensitizes the immune system, which, in turn, increases food allergies and sensitivities.
Over-sterilization Might be a Cause
Over-use of sanitizing cleansers, lotions, and gels might not be as good for us as we originally thought. This is known as the "Hygiene Hypothesis" — the idea that cases of allergies are increasing in number and severity because children grow up in environments that are simply too clean.
In our overly sterile homes, schools, and offices, our immune system is skewed away from fighting infections and toward fighting things that it's not supposed to be fighting, such as food or things in the environment.
It is interesting that we can trace the increased use of antiseptic products with the rise in food allergies and sensitivities — both beginning their rise in the mid-70s. Does this mean we should stop using these products? No. Just use them less, and use regular soap more.
What is Diane to Do?
So what is Diane supposed to do — or you, for that matter, if your story sounds a lot like hers? The best advice is summed up like this:
If you have mysterious symptoms that remain undiagnosed, consider a food sensitivity test. Most labs offer a simple in-home version that involves pricking a finger, applying small drops of blood onto testing paper, and sending it back to a lab. The test measures your level of immune response to a variety of foods — either low, medium or high. Foods with a high immune response should be eliminated from your diet for three months.
Use antiseptic cleansers, lotions, and gels sparingly, relying mostly on warm water and regular soap to wash your hands.
It's pretty amazing to think that the food we eat might be causing our symptoms. But with the rise in food allergies and sensitivities, it's definitely something worth investigating.
References
Pediatrics 2011;10.1542/peds.2011-0204.
Summary Health Statistics for U.S. Children: National Health Interview Survey, 2012, table 2.
J Allergy and Clinical Immunology. March 2011;127(3):682-3.
PNAS. 2010;107(33):14691-6.