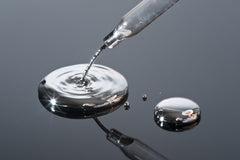 Whoa, mercy mercy me
Oh things ain't what they used to be, no
Where did all the blue skies go?
Poison is the wind that blows from the north and south and east …
"Mercy, Mercy, Me" – Marvin Gaye
"I listened to the music of Marvin Gaye for many years, and one day it dawned on me, in his 'Mercy, Mercy Me' song, he's singing about, 'Radiation underground and in the sea … fish are filled with mercury,'" Mark Drucker, MD, revealed to Suzanne Somers. "There was an awakening one day when the lyrics actually dawned on me."
Dr. Drucker had to go back to school to relearn approaches to health challenges brought about by our changing environment.
"I was fortunate about 25 years ago when I first learned of chelation therapy, because you don't learn about this in medical school, even though it is part of Western medicine," he explained. "Chelation is used in conventional Western Medicine when there's an acute industrial poisoning. So plumbers and welders who get lead poisoning end up in the E.R. and if there's a good doctor who puts two and two together they are chelated, or they get chelation therapy, in much the same way that I use it for people that have accumulated metals slowly over time."
He described to Suzanne Somers how he traveled to the Netherlands to meet with an American College for the Advancement of Medicine (ACAM) board member who had operated with famed heart surgery pioneer Michael E. DeBakey, MD, at Texas Heart Institute. The physician board member was a proponent of chelation therapy, which involves the administration of a chelating agent — usually EDTA — to remove potentially toxic metals that can cause a number of adverse symptoms, including fatigue, brain fog, depression, sleep difficulties, immune dysfunction. Also reduced is calcium in the arteries, where it forms a part of atherosclerotic plaques.
While exposure to some toxins can be reduced by proper selection of foods, others, such as those in the air we breathe, are unavoidable. By the time people have a noticeable problem, toxicity has existed for years or even decades. The toxins are already deposited in various organ systems, including bone marrow. In fact, experts in bone marrow cancers have shared their finding of elevated levels of lead in the marrow of bone cancer patients. There are also studies that show an increased risk of heart attack in association with higher heart muscle cell levels of mercury.
Mercury toxicity is the most common type of metal toxicity seen by Dr. Drucker. It is most often caused by older mercury amalgam dental fillings that release mercury in the mouth. Even when the patient has had their amalgam fillings replaced with safer composite resin fillings, a significant burden of mercury may remain in the body. Additionally, some otherwise good-for-you fish, when eaten, can contribute to the body's mercury burden, particularly some of the larger fish like tuna. (Salmon and arctic cod may be exceptions.)
Chelating agents can be administered intravenously or orally. By removing toxic metals from the blood, the cells can start emptying their own levels of these toxins. Urine sample analysis is used to quantify excreted amounts of these metals. Reduction of toxins can help reverse the dysfunction of affected organ systems. For example, people who are affected by mold due to immune impairment—and Suzanne Somers' husband is a case in point--may experience symptomatic improvement when their immune system begins to recover following chelation therapy.
Dr. Drucker places high importance on the initial patient interview. Lifestyle, stress levels, relationships, work, family, diet, toxin exposure and more are discussed in order to provide a picture of health from the patient's point of view. The next step is blood testing to ascertain blood chemistry, and hormone, vitamin and nutrient levels. He often sees patients who have previously consulted one or more allopathic physicians without success. Rather than attempting to treat (or mask) symptoms, Dr. Drucker attempts to find the root cause of a patient's complaints. The next step is to solve those root problems. Medicines were never intended to repair damaged organ systems that are at the root of sometimes life-threatening symptoms and events.
Suzanne Somers observed that hormone replacement therapy, for which she is an avid advocate, often appears to stop working for some men following a period of good results. Dr. Drucker suspects that toxin burden along with poor nutrition could be involved in this phenomenon. In toxic or poor nutritional states in which cellular vitality and performance are reduced, the addition of hormone replacement therapy is like whipping a tired horse. As Suzanne Somers noted in her book, TOX-SICK, hormones won't always help if the foundation (or fundamentals) is not in place
Dr. Drucker is a strong believer in nutritional supplements, consumed in the right amounts. "I call it therapeutic nutrition," he tells Suzanne Somers. "You can have a drug that's therapeutic, where it goes in and it supports the physiology if it's not working right. But you can have a high dose vitamin that has nothing to do with the Recommended Daily Allowance or the Minimum Daily Requirement. It is supporting a system that's already broken. Higher doses can get that effect."
He also believes in the importance of organic food. Organically produced food, due to the richer soil in which it is produced, provides more nutrition than conventionally grown food and limits the ingestion of devastatingly toxic pesticides.
While a few individuals can live to a ripe age while ignoring the content of their diets, most people fall into the middle of a bell-shaped curve in regard to the ability of their bodies to cope with toxin overload. On the opposite end of the curve are those whose systems are more sensitive or fragile, who need to be even more vigilant concerning what they put into their bodies. "When Hippocrates said, 'Food shall be your medicine,'" what he meant was nutritious, nourishing food," Dr. Drucker commented.
When asked by Suzanne Somers what he would suggest when someone approaches him who is "at their wits' end," he replied, "We call that 'sick and tired of being sick and tired.' But when you get to that, just understand that the functional medical model will do a lot to help restore health in any individual … Actually, we're not doing it. You, yourself, the patient is going to make it happen by taking our tips, advice and guidance on how to eat, how to get nourished, how to detox, whether you need chelation therapy. We'll find that out."
"Suzanne, thankfully, there are people like you, there is good food around and there's a ton of other good practitioners. people do not have to be stuck with these health issues and the Western medical model. We can get you fixed these days."
To learn more about Dr. Mark Drucker in Encinitas, CA - visit his Forever Health profile.