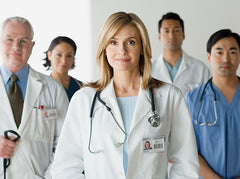 Your family doctor may be "in the dark" when it comes to bioidentical hormone replacement therapy (BHRT).  However, men and women who are beginning to experience the adverse effects of declining hormone levels are now fortunate enough to have access to a network of knowledgeable practitioners that can help them evaluate their hormone status and advise them concerning which preparations are right for them.
Family practitioners or general practitioners are essential partners in maintaining the health of you, your spouse, and your children. Yet they may lack the expertise in fine tuning a hormone replacement therapy program. While most general practitioners stay current on day-to-day issues presented by their patients, their thinking on the subject of hormone replacement may be stuck in the era of Prempro® with all of its drawbacks. And in an effort to protect the health of those who consult them, they may recommend the avoidance of all hormone replacement therapies. Even gynecologists and other specialists may not know the difference between non-bioidentical and bioidentical hormones and, with their busy practices, have not had the time to keep up with the evolving understanding of their risks versus benefits.   
The specialists that belong to the Forever Health Practitioner Health Network are not only knowledgeable about hormone replacement therapy and the deleterious effects of deficient hormone levels, but also are dedicated to guiding men and women on the path toward better health as they age. This is in sharp contrast to the majority of practitioners who still adhere to the long-held belief of an inevitable decline in health in our later years. This new attitude toward aging as a partly preventable condition is based on the latest research findings published in peer-reviewed medical journals. Your BHRT practitioner will keep himself or herself current on the latest findings in the area of bioidentical hormone replacement by subscribing to journals, attending seminars, and networking with like-minded practitioners.
Your BHRT practitioner may assist you with other areas of your health, in addition to getting you started with hormone replacement. His or her valuable insight concerning exercise, nutrition, stress reduction, and chronic disease prevention will prove to be of significant value to your overall anti-aging program. Due to the relative novelty of the specialty, you may need to travel to a major metropolitan area in order to avail yourself of the services of a BHRT practitioner. However, you'll find that the benefits you gain in your new partnership with a BHRT specialist are well worth the trip. 
By scheduling an appointment with a BHRT practitioner in your area, you'll take the first important step in helping prevent or even reverse the not-necessarily-inevitable decline in hormones and health. The subsequent improvements in hormonally related health complaints and significant boost in mood, mental clarity, and overall well-being will have you wondering why you waited so long.