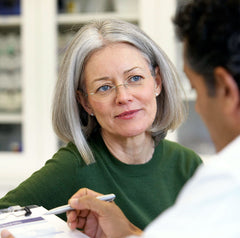 Once you've located a bioidentical hormone replacement therapy (BHRT) physician, the next step involves making your appointment. Prepare for your visit by making a list of any prescription drugs you are currently taking, as well as vitamins, minerals, amino acids, and other nutritional supplements (you can also bring these with you). Be ready to complete what can sometimes be extensive, new-patient paperwork, which may contain detailed questions concerning current and past medical providers, personal and family medical history, dates of previous illnesses and surgeries, current symptoms, and other information. Also prepare a list of questions you have for your doctor ahead of time.
Your physician may perform a brief physical examination or order laboratory tests to determine your hormone status and other factors. While some physicians can draw a patient's blood at their own offices, most will write a prescription for any needed lab tests and direct the patient to a blood-testing facility.
The majority of time spent during your appointment will involve discussing your symptoms and addressing any questions you have. It is important to work with a physician who schedules adequate time for this process, particularly on your first visit. It is during this initial visit that you should be able to evaluate whether the physician is right for you. Keep in mind that some physicians may not have a "bedside manner" that is 100% to your liking, but they could be at the top of their field in knowledge and competency.
While many physicians rely upon a patient's blood test results in order to determine the type and extent of hormonal deficiency, others may not feel the need to order tests, particularly when there are obvious indicators of low hormonal status such as advanced age. They may, instead, choose to immediately start their patients on the hormone regimens designed for their symptoms, as long as the patient has no disqualifying conditions, and rely upon future feedback to determine whether the dose administered is adequate or needs to be fine-tuned. Most BHRT physicians recognize the biochemical uniqueness of their patients and reject a "one-size-fits-all" approach to hormone replacement. A dose that is perfect for one man or woman may be inadequate or too high for someone else.
Although you may arrive at your appointment with a clear idea of what you want and need, be open to your physician's assessment of your condition and his or her suggestions. Your physician has the experience of evaluating a large number of people who have gone through the same thing you have and may see things that you don't. Conversely, your BHRT physician should be willing to listen to you and your ideas, and show genuine caring and commitment.
Your BHRT physician will become your partner on the path of age-reversal and optimal health. Armed with the appropriate prescriptions and personalized recommendations for the needed hormone therapies, you're ready to take the next exciting step in your journey.