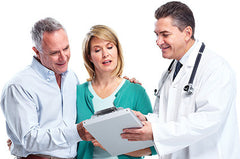 Your initial consultation with a bioidentical hormone replacement therapy (BHRT) physician may end with a prescription for several blood tests, and then you will be asked to schedule a follow-up appointment so that you and your physician can go over the results. But in some cases, your physician may want to get you started on hormone therapies right away. You may leave his or her office with a prescription for one or more hormones in the form of an oral capsule or tablet, or a patch, cream or gel. In addition, you may be advised to include hormones that are available over-the-counter, such as dehydroepiandrosterone (DHEA), pregnenolone, and/or melatonin. (Natural progesterone is available in both prescription and over-the-counter forms although only higher doses are available by prescription.)
Although many hormones available by prescription can be obtained at any pharmacy, some may need to be compounded. A compounding pharmacy can tailor a hormone therapy to meet the needs of the patient and the prescribing physician's specifications. A hormone or hormones can be compounded using various routes of administration (oral, topical, suppository, subcutanous, etc.) alone or in combination with other hormones. If there is no compounding pharmacy in your area, your prescription can be called in or sent to one that your physician recommends. You will then receive your prescription by mail—usually by expedited delivery service.
Make sure you fill your prescriptions right away and begin using your hormones as directed. This will help your physician evaluate whether the hormones you are using are right for you by the time of your next appointment and assist him/her in adjusting the dose if necessary.
Your physician will have advised you about how to use your hormones and discussed any potential risks involved. Some female hormones are administered cyclically, meaning that they are used for a week or more per month to mimic the pattern of release that would normally occur during a woman's natural ovulatory cycle. Others may be administered daily, twice per week (as in the case of some patches), or every two to four weeks for testosterone injections given by your physician. The subcutaneous pellet delivery method typically lasts for 3-6 months and releases a consistent supply of bioidentical estrogen or testosterone directly into the bloodstream. There may also be preferred times of the day to take specific hormones. For example, oral or sublingual melatonin is used before sleep, and hormones administered in suppository form are often used at bedtime as well. Progesterone is also often administered in the evening because it may have a sedative effect.
In addition to hormone therapies, your BHRT physician may suggest specific nutritional supplements designed to improve overall health and well-being or to address specific complaints. Your physician may also provide advice on diet, exercise, and other areas that will enhance your overall youthfulness-enhancing regimen.