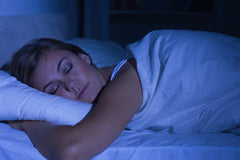 If you've been through menopause, there's a good chance you're not sleeping well. In fact, sleep problems may affect 38% of women after "the change."
1
At least part of it has to do with your hormones, in particular, progesterone. As women age, their production of progesterone decreases, and this can trigger a host of problems, such as insomnia. But don't despair. If a hormone imbalance is causing your problem, then progesterone may be very helpful.
Progesterone Calms Your Brain and Restores Sleep
Progesterone has a calming effect on the brain. It modulates GABA receptors
2
which induce sleep and relaxation.
3,4
To evaluate the effect of progesterone on sleep, scientists enrolled 10 post-menopausal women in a randomized, placebo-controlled crossover study. These women were healthy and didn't have sleep problems. For 21 days, half of the women took 300 mg of micronized progesterone pills while the other group received a placebo. After a two-week washout period, the groups switched treatments. Each woman was hooked to a machine that recorded her sleeping patterns. They also filled out questionnaires which evaluated their sleep quality. The women taking progesterone slept better.
5
They also spent less time awake and had increased REM sleep, which is restorative and essential to well-being. More importantly, though, the progesterone was very well-tolerated and no side effects were reported. Other studies have shown similar results, with women experiencing deeper, more restorative sleep while taking progesterone.
6
Bio-identical Progesterone is Safe
Many women are concerned about taking progesterone and hormones in general. Their fears generally stem from the Women's Health Initiative, a landmark study that showed the dangers of synthetic hormones, including an increased risk of cancer
7
and other health problems. In contrast, bio-identical hormones look and act just like your own hormones. In fact, research shows they may even
decrease
the risk of cancer.
8
This is the type of hormone restoration we advocate.
Work with a Qualified Health Practitioner
Interested in taking progesterone? Work with a qualified health practitioner. Here in our Forever Health network, you'll find a team of qualified physicians that can help get you started.
References:
Menopause. 2003 Jan-Feb;10(1):19-28.
Physiol Behav. 2009 Apr 20;97(1):58-61. Epub 2009 Feb 7.
Biofactors. 2006;26(3):201-8.
Neuroscience. 2002;111(2):231-9.
Psychoneuroendocrinology. 2008 Sep;33(8):1124-31. Epub 2008 Aug 3.
J Clin Endocrinol Metab. 2011 Apr;96(4):E614-23. Epub 2011 Feb 2.
JAMA. 2002 Jul 17;288(3):321-33.
Postgrad Med. 2009;121(1):73-85.