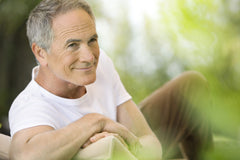 Andropause is the male version of menopause and is characterized by a decrease in testosterone and an increase in estrogen. The changes in hormone production disrupt the balance between them, lowering the testosterone-to-estrogen ratio. As the ratio drops, changes in a man's body occur — usually seen as an increase in belly fat and loss of muscle mass. But changes aren't just cosmetic. Andropause is also a time of heightened risk of cerebrovascular, cardiovascular, and prostate disorders. Restoring normal hormone balance by increasing the testosterone-to-estrogen ratio can improve how maturing men feel, look, and age.
For men looking to reverse andropause, supplements such as zinc, chrysin, and nettle root support healthy testosterone levels. Hormone pellets may also be a convenient method of restoring testosterone levels.
Boosting Testosterone without Hormones
Zinc is involved in almost every aspect of male reproduction, including testosterone metabolism, sperm formation, and sperm motility.
1
A prime example of the usefulness of zinc was illustrated in a study of 37 infertile men with decreased testosterone levels and associated low sperm counts. The men were given 60 mg of zinc daily for 45 to 50 days. In the majority of patients, testosterone levels significantly increased and mean sperm count rose from 8 million to 20 million.
2
A
puncture vine,
Tribulus terrestris
, can also help to boost testosterone levels. It contains the active ingredient protodioscin, which is reportedly converted to the hormone dehydroepiandrosterone (DHEA) and then converts to testosterone.
3
The DHEA-boosting activity may account for the vine's reputation as an aphrodisiac in its native Europe and Asia. Animal studies appear to confirm the ability of
Tribulus terrestris
to improve sexual function.
4,5
Preventing Testosterone's Conversion to Estrogen
By itself, increasing testosterone is not enough. We also have to prevent its conversion into estrogen by inhibiting the aromatase enzyme. This will decrease estrogen, increase testosterone, and improve the ratio — all helping to reverse andropause. According to a 2008 study published in
Anti-Cancer Agents
in
Medicinal Chemistry
, the following extracts were classified as aromatase inhibitors:
6
Chrysin (from passion flower)
Nettle root extract
Zinc (may increase testosterone and prevent conversion)
Apigenin (a compound from parsley)
Muira puama (an herbal extract)
Antioxidants Protect Hormone Producing Tissues
One reason testosterone production may decline with advancing age is oxidative damage in the tissues that produce testosterone. A study examining the role antioxidants play in male hormone imbalance in aging men noted that antioxidant supplements — including vitamins A and E, zinc, and selenium — all supported testosterone production.
7
Hormones or Reversing Andropause
Going beyond the effects of nutrients, bioidentical hormones have the greatest potential for reversing andropause. First, there's over-the-counter DHEA. In addition to providing androgenic support, DHEA converts to testosterone and can support optimal levels and raise the testosterone-to-estrogen ratio. The average dose is 50 to 200 mg per day. The next step after taking DHEA would be to take exogenous testosterone. This comes in prescription pellets, creams, and gels. Using hormone pellets may not be a good idea initially. Inserted under the skin, the pellets release a steady amount of testosterone. If the dose needs to be adjusted, the hormone pellets have to be removed and re-inserted. Once you become accustomed to hormone treatments, however, pellets can be very convenient. But don't forget to have your hormones tested before starting any hormone regimen. You also need to be committed to obtaining follow-up blood tests at least once a year.
Improve How You Feel, Look, and Age
Reversing andropause by improving hormone production and balance can go a long way in helping you to feel, look, and age better. It's probably best to start by testing your hormones. You and your doctor need to identify any deficiencies and imbalances and develop a plan for correcting them. Your plan can include some of the nutrients discussed for boosting testosterone, preventing its conversion to estrogen, and improving how your body metabolizes hormones. You might also consider over-the-counter DHEA and a bioidentical testosterone prescription.
References:
J Coll Physicians Surg Pak. 2005 Nov;15(11):671-3.
Arch Androl. 1981 Aug;7(1):69-73.
Int J Androl. 2000;23 Suppl 2:82-4.
J Altern Complement Med. 2003 Apr;9(2):257-65.
Fiziol Zh. 2009;55(5):89-96.
Anticancer Agents Med Chem. 2008 Aug;8(6):646–682.
Zhonghua Nan Ke Xue. 2005 Oct;11(10):784-6. Review