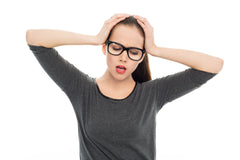 What is stress? Nervousness, heart palpitations, clammy hands, irritation, and/or an inability to concentrate all probably come to mind.
However, stress can also be characterized by overeating, a loss of appetite, deadened feelings, insomnia or even oversleeping. What's the deal?
According to The American Institute of Stress, "Stress is not a useful term for scientists because it is such a highly subjective phenomenon that it defies definition. If you can't define stress, how can you possibly measure it?"
The term "stress," as it is currently used, was coined in 1936 by Dr. Hans Selye, who defined it as "the non-specific response of the body to any demand for change."1
Dr. Selye recognized that animals exposed to a variety of stimuli reacted with the same physical symptoms, such as stomach ulceration or adrenal enlargement, and developed some of the same conditions as humans, including stroke and heart attack.
He believed that diseases could have more than one cause and that stress might be one of them.
Is There Such a Thing as Good Stress?
Stress can be labeled "good" or"bad" according to one's reaction. Anticipation of a situation associated with happiness, such as a wedding, can be just as stressful as a situation commonly perceived as unpleasant.
According to The Holmes-Rahe Life Stress Inventory, the following are the top ten most stress-inducing events:
Death of a spouse
Divorce
Marriage separation
Serving a jail term
Death of a close relative
Injury or illness
Marriage
Being fired from a job
Marriage reconciliation
Retirement
Although some of these events are pleasant, according to Drs. Holmes and Rahe, any of these, but particularly a combination, can predict the development of illness.
We can't avoid stressful situations in life, nor would we want to. A certain amount of stress can actually improve certain areas of one's life (work performance, for example).
People can experience too little stress, which has been associated with inactivity, boredom, and depression.
Natural Stress Relievers
A number of nutrients have been found to be useful by men and women to help manage stress.
Vitamin C is depleted by stress reactions, and it is needed by the body in greater amounts during such times. Vitamin B5 is also necessary to cope with the effects of stressful situations.
The amino acid L-theanine, found in green tea, has been credited with the feeling of relaxation imparted by the beverage.2,3 Current studies validate its traditional use for this purpose.4,5
Lemon balm is another plant-derived treatment that may help with the effects of stress.6,7 And the herb schisandra has shown promise in animal studies.8
The Bottom Line
It is not "the stress of life," but our reaction to our perceived stressors that causes physical and psychological symptoms.
Fortunately, we have the power to learn how to enjoy meeting life's challenges and even "thrive under stress." Like many things, it's a matter of practice.
References:
1. Available at: http://www.stress.org/what-is-stress/. Accessed January 16, 2015.
2. Psychopharmacology (Berl). 2012 Feb;219(4):1099-109.
3. J Herb Pharmacother. 2006;6(2):21-30.
4. Asia Pac J Clin Nutr. 2008;17 Suppl 1:167-8.
5. J Pharm Pharmacol. 2007 Aug;59(8):1131-6.
6. Nutrients. 2014 Oct 30;6(11):4805-21.
7. Med J Nutrition Metab. 2011 Dec;4(3):211-218.
8. Zhonghua Nan Ke Xue. 2009 Feb;15(2):126-9.